Shower Gel & Bath Formulas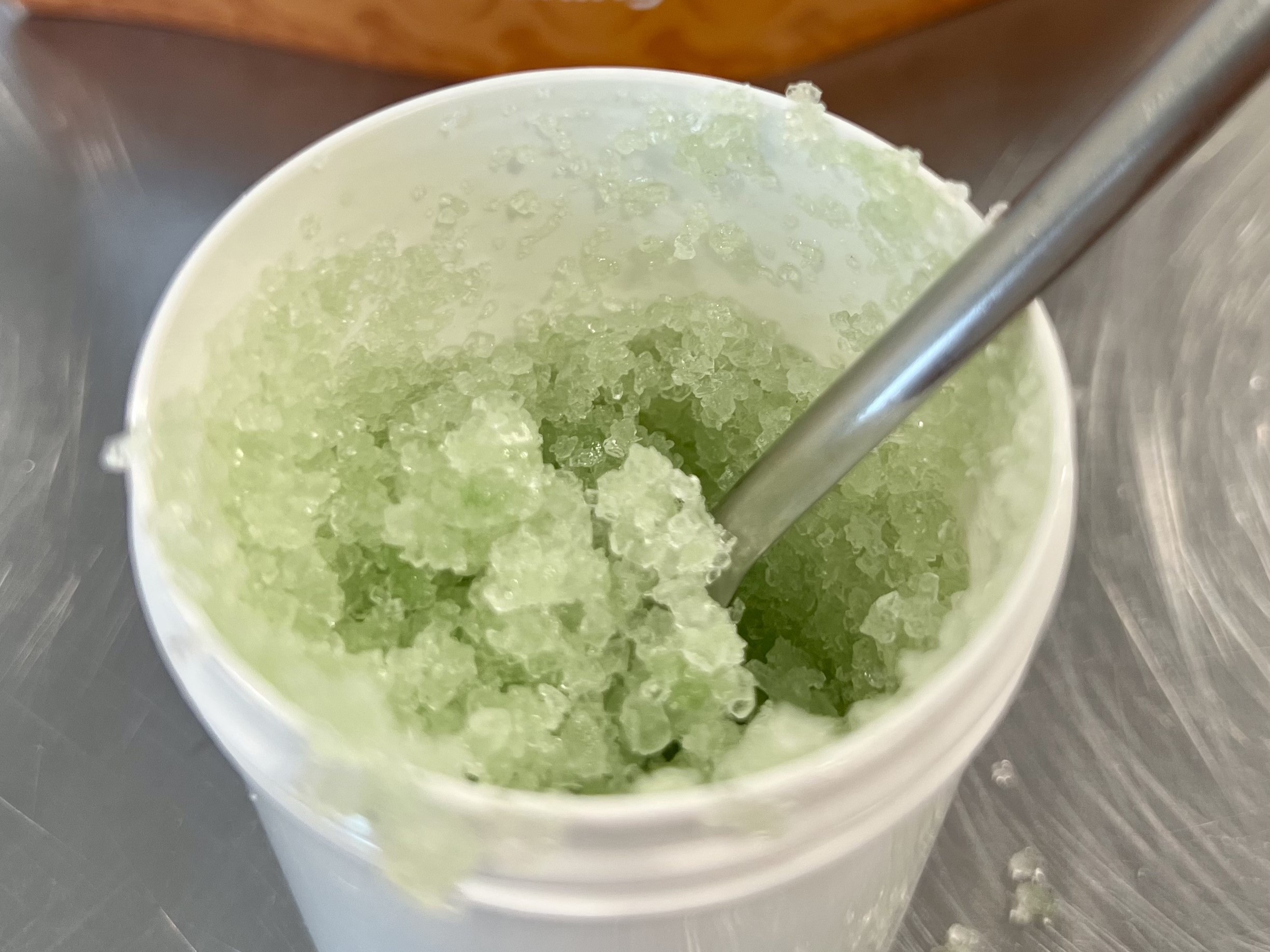 Epsom Salt Bath (No. 1953)
Properties: Delightful salt bath with Magnesium sulfate (Epsom salt) which may help in relaxing sore muscles and may relieve pain in the feet, legs, shoulders, and back. The perfect soak for fall/winter to combat aches and pains. Added emollients help soften & moisturize the skin.
Formula: PDF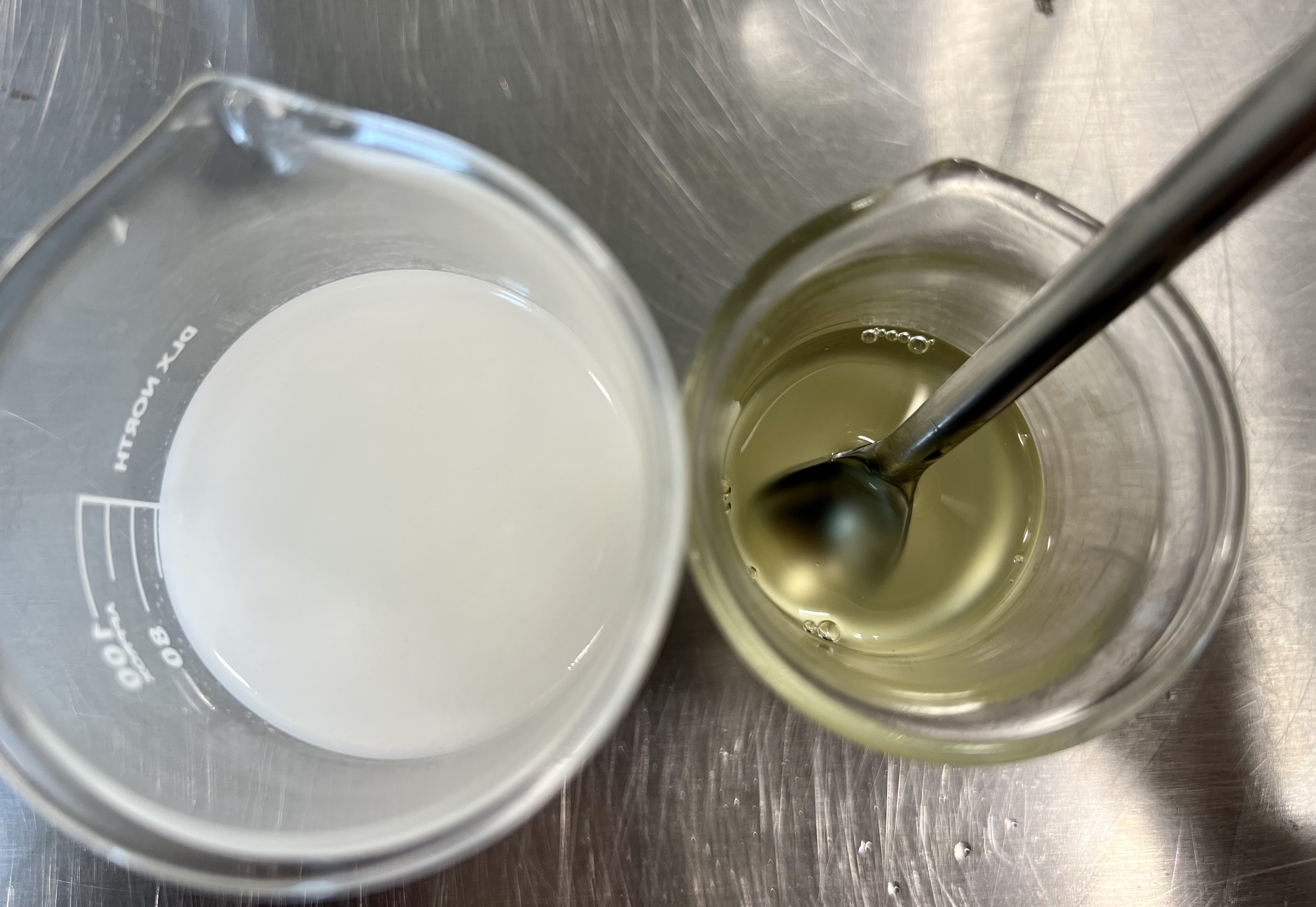 Shower Oil

(No.1954)

Properties: Cleansing Oil that leaves a moisturizing feel. It forms an emulsion on the damp skin, mildly cleanses and can easily be rinsed off. Doesn't foam, instead will clean with the help of emollients and emulsifiers. Can also be used as a face cleansing oil. (Picture shows oil and when dispersed in water)

Formula: PDF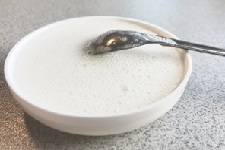 Creamy Hand & Body Cleanser (No. 1839)
Properties: Contains gentle surfactants, a high amount of aloe vera, emollients and botanicals such as lentil and kelp. Lentils have a natural protein and provitamin b5 content, while organic kelp provides trace minerals, phytonutrients and vitamins including A, B1, B2, C, D, and E. Simple and natural formulation.
Formula: PDF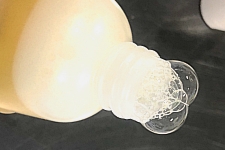 Body Wash with Hemp (No. 1830)
Properties: Mild & moisturizing body wash with good lather. With added Hemp Protein and Hemp Seed Oil.
Formula: PDF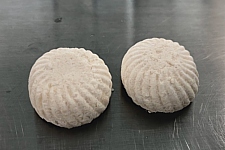 Handcrafted Shampoo & Body Bar (No. 1787)
Properties: Mild shampoo & body bar featuring Disodium Cocoyl Glutamate (and) Sodium Cocoyl Isethionate surfactant together with moisturizing jojoba milk and shea butter.
Formula: PDF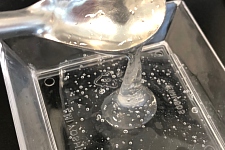 Sea Salt Bubble Bath (No. 1776)
Properties: Bubble Bath that can be customized further by adding a small amount of mica pigment to color or a fragrance of your choice.
Formula: PDF
Summer Lilac & Thyme Shave Gel (No. 1525)
Properties: This shave gel will condition the legs with grapeseed oil and vitamin E, while providing slip with polyquaternium-10 to prevent razor burn and get as close a shave as possible. Summer Lilac & Thyme soothes any nicks from shaving.
Formula: PDF
Exfoliating Shower Gel (No. 1584)
Properties: Mild Shower Gel with natural rice bran beads to exfoliate. Simple, basic formula. Fragrance is optional. Woodlands fragrance smells earthy and has a hint of sandalwood.
Formula: PDF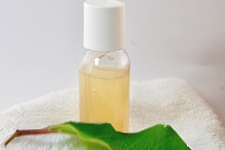 Mild White Tea Body Wash (No. 1121)
Properties: Mild, herbal shower gel with white tea fragrance.
Formula: PDF
Exfoliating Shower Gel with Jojoba Pearls (No. 1122)
Properties: Very mild shower gel with gentle jojoba pearl exfoliation. Suitable also for the very sensitive skin type.
Formula: PDF
Creamy Shower Gel "Dove Type" (No. 1078)
Properties: Soft and creamy shower gel similar to the popular cream body wash "Dove" from Lever Brother Company.
Formula: PDF
White Rose Pearlizing Shower Gel (No. 1120)
Properties: Creamy pearlwhite shower gel with mild cleansing agents and a very pleasant bouquet of white roses.
Formula: PDF